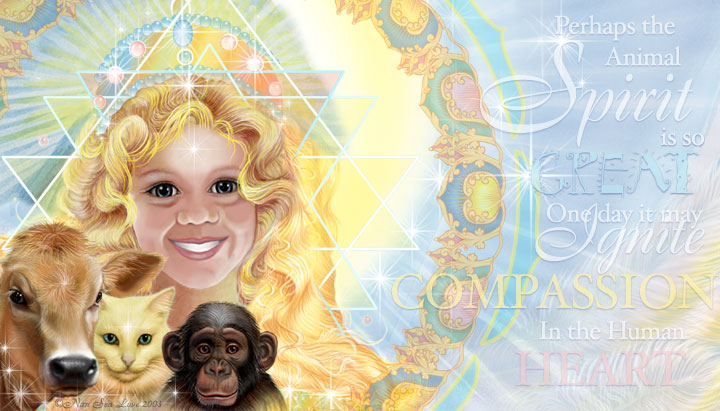 The Animal Spirit

Inspired by the heartfelt hope that somewhere there are guardian angels for animals. It is possible that those animals who have touched your life are the true angels, great Spirits taking on animal bodies choosing to be powerless except for love, speaking a language greater than words, awakening the language of love and compassion. Animals may be true angels but, in this world, we are the only hope they have and they desperately need our help. May we each become an Animal Angel—see Links for many ways you can help animals."Perhaps the Animal Spirit is so great that one day it may inspire compassion in the human heart"—Nan Sea Love

Available as a Limited Edition Giclée on Somerset Velvet numbered and signed 33 x 43 inches $160 unframed, as 13 x 16 inch prints on fine art paper with archival inks $50 unframed and as 5 x 7 inch notecards.
© Copyright Nan Sea Love 2003. All rights reserved. Art gratefully dedicated to all who love the earth and all its creatures.
Close window to return to site